The story
Sixteen violins found in Nazi concentration camps after World War II

For Jews enduring utter despair and unimaginable evil during the Holocaust, music offered haven and humanity. The strains of a beloved song supplied solace, even if only for a few moments. The chords also provided a vital reminder that even the most brutal regime could not rob them of their faith. No matter what, their souls could be free. In some cases, the ability to play the violin spared Jewish musicians from more grueling labors or even death.
Nearly 50 years ago, Amnon Weinstein (photo, now 77) heard such a story from a customer who brought in an instrument for restoration. The customer survived the Holocaust because his job was to play the violin while Nazi soldiers marched others to their deaths. When Weinstein opened the violin's case, he saw ashes. He thought of his own relatives who had perished, and was overwhelmed. He could not bring himself to begin the project.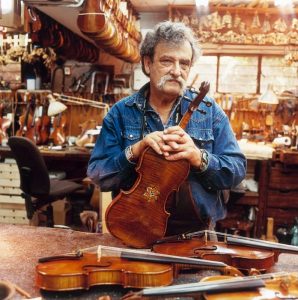 One violin, for example, belonged to a boy who survived a German massacre in 1944 in Ukraine and afterwards joined a Jewish partisan group. He managed to smuggle explosives into a German officer's club in his violin case. The attack was successful, but the boy (called "Motele") was later caught and shot. The partisan commander took his violin to Israel where Amnon Weinstein came across it. After many years work, this instrument has now been restored.
By 1996, Weinstein was ready. He put out a call for violins from the Holocaust that he would restore in hopes that the instruments would sound again.
Amnon Weinstein has spent the last two decades locating and restoring violins that were played by Jewish musicians during the Holocaust. He dedicates this important work to 400 relatives he never knew. These grandparents, uncles, aunts, and cousins stayed behind in Eastern Europe when Amnon's parents, Moshe and Golda, immigrated in 1938 to Palestine, where Moshe opened a violin shop. After the war, Moshe learned that his entire family—400 in all—had been murdered during the Holocaust. The pain of this discovery led to his first heart attack. Moshe never spoke of his family again. When young Amnon would ask Golda about their relatives, she would show him a book about the Holocaust. Pointing to the ghastly photos of the dead, she would say, "This is our family." She would break down in tears, unable to explain further.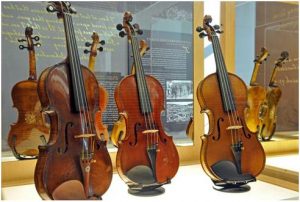 After growing up to become one of the most respected violin makers in the world, Amnon became determined to reclaim his lost heritage. He started locating violins that were played by Jews in the camps and ghettos, painstakingly piecing them back together so they could be brought to life again on the concert stage. Although most of the musicians who originally played the instruments were silenced by the Holocaust, their voices and spirits live on through the violins that Amnon has lovingly restored. He calls these instruments the Violins of Hope.
Almost all the instruments in this collection have been restored and can again be played. They have already been played at memorial concerts in Jerusalem, Paris, Madrid, London, New York, Rome, Oslo and many other places. On International Holocaust Remembrance Day 2015 on 27 January, they played at the Berlin Philharmonie by members of the Berliner Philharmoniker, conducted by Sir Simon Rattle.
Suddenly, he notices a German officer among the crowd listening to him. The officer signals to him with his baton. Motele gets up and follows him wordlessly. They reach a big building. Motele immediately realizes that this is where the German officers assemble before departing to, and upon returning from, the rapidly approaching front line. "You'll play here every evening, and there's the pianist who'll accompany you," the officer tells him. Every evening after his performance, Motele goes down to get a mess-tin of soup in the kitchen in the cellar… (read here the whole story)
And more…
Violins of Hope
Violins of Hope Cleveland Foundation
Berliner Philharmoniker Violins of Hope
Israeli luthier Amnon Weinstein receives German honour