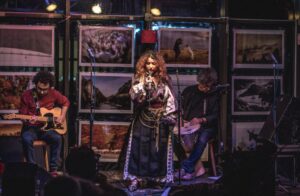 "A chant of worlds – a blend of blues and songs with a drawl" is the name of a music projet by singer-songwriter Alina Ciolcă and Band which aims to build, through alternative (re)interpretations, a cultural bridge between two apparently distant worlds : traditional archaich Afro-American music, which blues and jazz stemmed from, and Vlach folklore, reuniting traditional music in all four historical dialects of the archaich Romanian language (Daco-Romanian, Aromanian, Megleno-Romanian, Istro-Romanian).
Alina Ciolcă – vocals
Having started singing at a very young age, Alina Ciolcă has always sought to express raw emotion through a unique, personal vocal style, experiencing in various musical contexts, from playing in Romanian pop music contests/festivals to blues-jazz, rock and heavy-metal bands. Since 2016, she is a founding member and vocalist of blues-rock/roots-rock band Dusty Ride, alongside which she played numerous national and international blues and rock festivals, as well as national radio and TV shows and a first album entitled "Dawn" was released in January 2019, containing seven own compositions collectively written by all four members on lyrics by Alina. Since 2018, she initiated a solo project based on reinterpreted traditional music, materialized in a bilingual album entitled "Îngân lumea – despre blues și cântări tărăgănate"/ "A chant of worlds – a blend of blues and songs with a drawl", released in April 2019.
Bogdan Bîngă – guitar
A young self-taught guitar player, Bogdan Bîngă started playing guitar at the age of 17. Even if following a different academic and professional path, having graduated from the Building Engineering Department at the "Alexandru Ioan Cuza" University of Iași, he has followed his passion for music, he played in various folk, rock and blues bands. Since 2018, he is a member of the Alina Ciolcă and Band solo project, playing electric and slide guitar and creating inovative rearrangements for traditional archaic songs.
Adrian Chepa – percusssions, bass
An extremely versatile, experienced musician and a multi-instrumentalist, Adrian Chepa gratuated from the Romanian Military School of Music and has been part of numerous musical projects ever since, ranging from progresssive rock, alternative rock, ethno-rock, reggae and blues, in well-known Romanian bands such as Spitalul de Urgență and Mike Godoroja and The Blues Spirits. As part of Romanian groups Liverpool (Beatles tribute band) and Theo and The Wristband (Frank Zappa tribute band), Adrian played at international festivals abroad, receiving excellent critical acclaim, namely the Beatle Week 2012 (The Beatles tribute festival in Liverpool, UK) and Zappanale 2017 ( Frank Zappa tribute festival in Bad Doberan, Germany). Alongside Alina, Adrian is also a founding member of blues-rock/roots-rock band Dusty Ride (as bass player) since 2016 and the Alina Ciolcă and Band solo project since 2018.