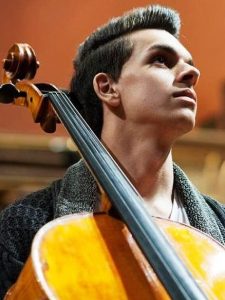 Cornelius Zirbo, 20, was born in Cluj-Napoca where he began his musical studies at the age of 9. He graduated "Dinu Lipatti" National High school of Arts in Bucharest under the mentorship of Octavian Lup and now Cornelius is doing a Bachelor Programme at National University of Music Bucharest under Marin Cazacu.
Until now he had lessons with many famous cellists and pedagogues such as: Frans Helmerson, Gautier Capuçon, Wolfgang Emanuel Schmidt, Miklos Perenyi, Romain Garioud, Götz Teutsch, Alexander Buzlov, László Fenyő, Maximillian Hornung, Jan-Erik Gustafsson, Denis Severin and Wendy Warner. During 2016-2017, Cornelius studied in Paris at Classe d'Excellence de Violoncelle of Gautier Capuçon held at Foundation Louis Vuitton.
Cornelius is an ambassador of Verbier Festival Academy where he had the tremendous chance to consolidate his study of cello and chamber music. Furthermore in July 2018 he was selected as active student to Frans Helmerson's masterclass in Montepulciano, Italy and in September 2016 he participated at Cello Masterclasses of Kronberg Academy in Germany.
He is a laureate of many competition in homeland and abroad, for instance: 1st prize – StreichWerk International String Competition (Berlin), 2nd prize – International Competition "Concertino Praga" (Prague), 3rd prize – International Cello Competition "Antonio Janigro" (Croatia), 1st prize a International Competition "Young Virtuosos" (Sofia), 2nd prize – International Cello Competition "ProArt" (Ukraine) etc.
He performed as soloist with orchestra such as: Prague Radio Symphony Orchestra, Academic Symphony Orchestra of Khmelnitsky Philarmonie, "Moldova" State Philharmonic, "Transilvania" State Philharmonic, The Royal Camerata, The National Youth Orchestra of The Princess Margareta of Romania Foundation and The "JUNIOR" Romanian National Orchestra.
He performed in festivals such as: Verbier Festival, Enescu Festival, South Bohemian Festival, SoNoRo Festival, Chiemgauer Musikfrühling Festival and SuperCello Festival in Beijing. Cornelius gave recitals and concerts with orchestra in Romania, Germany, France, Switzerland, Czech Republic, Italy, Great Britain, Denmark, China, etc. in prestigious venues such as: Kozerthaus Berlin, Fondation Louis Vuitton Auditorium (Paris), Rudolfinum (Prague), Eglise de Verbier (Switzerland), St. Martin-in-the-Fields (London), National Library Concert Hall (Beijing) and The Grand Hall of Romanian Athenaeum (Bucharest)