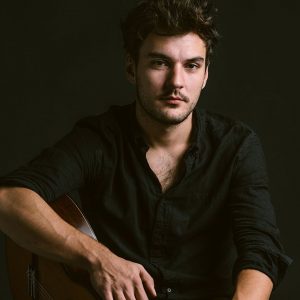 Having won numerous prizes, including 1st prize at Volos International Guitar Festival, 1st prize at Terra Siculorum International Guitar Festival, he established himself as an important figure of the classical guitar community.
Born in Bucharest in 1989, his first contact with music was at the age of 7 when he started studying violin. Shortly after, he discovered classical guitar music with which he fell in love. He never stopped playing guitar ever since.
His devotion to classical guitar did not stop him from approaching the instrument from a more personal point of view. His authentic vision reveals both great appreciation for the classical guitar and its tradition as well as openness to fusion and new styles, creating unique performances in collaboration with various musicians.