Nina Achilov – contralto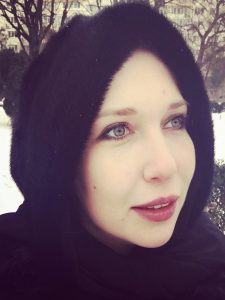 Young graduate of the National University of Music, Nina is a soloist at the Comic Opera House for Children in Bucharest, with roles in The Magic Flute, The Sound of Music and King's Daughter. Other roles: "La Sphinge" (National Opera Bucharest), Dido, in Purcell's masterpiece "Dido & Aeneas" (Iasi Athenaeum) and Olga, in "Eugene Onegin" (National University of Music).
Recitals in Greece (Thessaloniki Conservatory), Italy (Athenaeum Hall in Barletta), Bulgaria (Vidin Philharmonic), Lauder-Reut Gala at the Parliament,  "George Enescu" Festival Square, "Ion Dumitrescu" Philharmonic in Ramnicu Valcea, "Paul Constantinescu" Philharmonic in Ploiesti, The Art Museum in Constanta, Old Music Festival in Miercurea Ciuc, "George Enescu" Museum in Bucharest, Cultural Centre Arcub, Palace of the National Military Circle, etc.
Vocal-symphonic music: "Stabat Mater" by G. B. Pergolesi, at the Romanian Athenaeum and the "Paul Constantinescu" Philharmonic in Ploiesti. Soloist with "Alexandrov Ensemble"
Tudor Scripcariu – pianist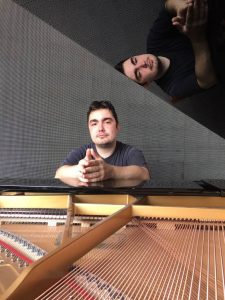 Tudor Scripcariu was born in 1987 in Bucharest, Romania. He attended the "George Enesco" Musical High School at teacher Mihaela Zamfirescu's class. During the high school he obtained over 25 national and international prizes including 3 grand prizes at the "Sigismund Toduta", "Carl Czerny" and "W.A.Mozart" Competitions.
Some of the top prizes achieved were the 2nd prize with silver medal at the "Maryse Cheilan" international Competition- Hyeres – France and the 1st prize with gold medal at the "San Bartolomeo al Mare" international Competition- Italy.
In Romania, Tudor has given many recitals at the Romanian Athenaeum, National Opera – Bucharest, National Opera – Constanta, at the "George Enesco" National Museum, Bucharest and Cluj-Napoca Radio Studios. He has appeared on Romanian Television and at the "Mariana" Academy from Lleida – Spain.
Tudor has been concerto soloist with the Philharmonic Orchestras from Bucharest, Cluj-Napoca, Satu-Mare, Rm. Valcea and Manchester Camerata.
Betw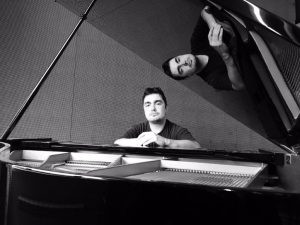 een 2007-2010, Tudor studied at the Royal Northern College of Music in Manchester where his teacher was Helen Krizos. During the first year of study he obtained many prizes. These include 2nd prize with silver medal at the "Moray" Piano Competition – Scotland,  together with two major awards for piano accompaniment. In August 2009 Tudor won the Manchester International Concerto Competition.
Tudor has performed in many master classes, including: Andras Schiff, Ian Brown, Stefano Fiuzzi, Nelson Goerner, Alexander Melnikov, Martino Tirimo, Philippe Cassard, Antoin Voigt, Richard Goode, and Graham Scott.
Currently, Tudor is doing his Phd in Music Performance at the National University of Music in Bucharest and is a teacher assistant in the Singing Department of the same university. Since 2015, Tudor is the accompanist pianist of the Comic Opera for Children in Bucharest.