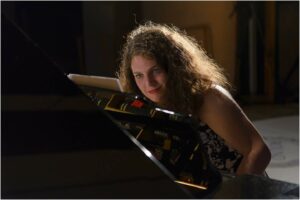 Born October 12, 1993, Miriam Drasovean began studying the piano at age seven with Professor Angela Dresca and Professor Orth Enikö. She has  her Masters degree from the National University of Music Bucharest, at the classes of Prof. Univ. Dr. Viniciu Moroianu (piano), Prof.Univ.Dr. Steluta Radu (vocal and instrumental accompaniment) and Univ. Dr. Adriana Maier (chamber music) and is currently teaching at the Gimanzial School of Arts "Iosif Sava"in Bucharest.
Over the years, she has participated in numerous National and International Contests and Masterclasses held by Professors Iustin Oprean (Germany), Adrian Oetiker (Switzerland) and Sokolayi Balasz (Hungary). Among the awards she received we mention the 2nd Prize and the Special Prize "Frederic Chopin" at the "Carl Filtsch" – Sibiu International Contest, the Prize for Excellence at the "J.S. Bach "- Cluj Napoca, the "Suzana Szörenyi" Prize at the "Ionel Perlea" National Festival and Contest, along with the tenor George Virban and the Special Prize for accompaniament "Doina Micu" at the same competition. She participated as an accompanist at the "Le Grand Prix de l'Opera" International Competition in Bucharest and in the spring of 2016  she was a member of the Consultative Jury of the students at the "Suzana Szörenyi" International Contest – Bucharest. Also, at this same contest – "Suzana Szörenyi", in 2017 she won first prize at the Duo-Dramatic section with George Virban and the prize of the Sudents Jury with sopano Daniela Bucsan.
As an accompanist she played alongside Geoge Vîrban and Gloria Tronel in a series of recitals in Iasi, Pitesti, Brasov, Chisinau and Ploiesti. Also, with the cellist Cornelius Zirbo she performed in Copenhagen at the Italian Cultural Institute and in London at St. Martin in the Fields. She also performed as a soloist with the Sibiu State Philharmonic and held solo recitals in her hometown, as well as in France and Germany.