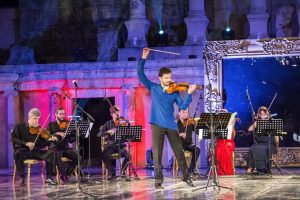 Kamerata Stradivarius:
Founded in 2010 with the main purpose of performing concerts in a flexible formation, without a conductor, Het Kamerata Stradivarius has rapidly developed into a world-known chamber orchestra.
The ensemble's members are outstanding soloists.
Why without a conductor?
"We meet for practice sessions and rehearsals in a casual context where each member has the opportunity to consolidate their own role. As it appears, they become more: chamber and orchestra musicians that can develop together in a context that is meant to create an efficient communication channel between musicians and the composers that they are playing" Razvan Stoica
The Kamerata Stradivarius plays under the artistic direction of Razvan Stoica, as well as of various guests, and is characterized by a subtle and absolutely homogeneous culture of sound, freshness and exceptional style in all types of repertoire, from the Baroque to the present. These special qualities led to collaborations with numerous internationally renowned artists from around the world.
Kamerata Stradivarius has recently been a big part of Strad Style, an artistic-documentary about one of the most known violins of all time: Paganini's Guarnieri, "Il Cannone".
"Kamerata Stradivarius is clearly an extraordinary ensemble presenting a totally convincing interpretation. …a sold out concert hall, a great violinist and an amazing ensemble: ingredients for a perfect evening" Oldenzaal Cultuur Journal – 2013
"Kamerata Stradivarius – a distinguished gathering of soloists motivated simply by the joy of playing together and by the pleasure of making music. A concert experience I want to repeat as many times as possible" De Telegraaf journal – 2014 
"A Stradivarius violin has a unique and exquisite sound; the same I can say about the Kamerata Stradivarius ensemble" Gelderlander Classic – 2014
"Orchestral interaction suddenly becomes easy and father-like, exactly like the chamber music should be: uninhibited and inhabited." De weeke krant – 2013