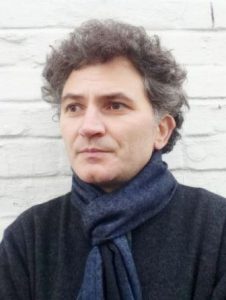 Erwin Kessler (1967) este istoric de arta si filosof roman, cercetator stiintific la Institutul de Filosofie al Academiei Romane si expert in arte vizuale la Institutul Cultural Roman, critic de arta la Revista 22 si director al MARe/ Muzeul de Arta Recenta, Bucuresti.
A facut studii de filosofie si de istoria artei la Bucuresti, Praga, Paris si Maastricht, cu studii doctorale la École des Hautes Études en Sciences Sociales, Paris, si este specializat in arta moderna si contemporana din Romania, istoria si estetica artei moderne universale.
Erwin Kessler este Profesor asociat de istoria artei si estetica la Centrul de Excelenta in Studiul Imaginii (CESI) (Istoria picturii moderne in Romania si Arta video).
CESI este primul centru de cercetare post-universitara din Romania in domeniul stiintelor socio-umane acreditat cu titlul de EXCELENTA de catre Consiliul National al Cercetarii Stiintifice din Invatamantul Superior (CNCSIS), in anul 2001.
CESI face parte din Consortiul dintre Universitatea din Bucuresti si Universitatea de Arhitectura si Urbanism "Ion Mincu" Bucuresti, incepind cu decembrie 2003. Din 2005, din consortiu face parte si Universitatea "Al. I. Cuza", Iasi, prin Centrul de Hermeneutica al Facultatii de Filosofie.
Volume de autor recente: MAMUCA/Mai-mult-ca-abstractul, Vellant 2016, Tzara.Dada.Etc., Editura ARCUB 2016 (Marele Premiu pentru Cea mai frumoasa carte a anului 2016, decernat de Ministerul Culturii), Stefan Bertalan : Emigrarea interioara, Vellant, 2016, Dealuri si cimpii. Antropogeografii atavice, Vellant, 2015, Coasa era pui, Vellant, 2015, Auch gestern war heute (Yesteday was today too), Editura ICR, 2015, x20. O radiografie a artei romanesti dupa 1990, Editura Vellant, 2013, Undeva in Titan era o betoniera. Grupul Euroartist Bucuresti Editura Vera, 2013, I Colori delle Avanguardie. Arte in Romania 1910-1950, Gangemi Editore, Roma, 2011, Rostopasca, Editura NOI Mediaprint, Bucuresti 2011, The Self-punishing One. Stefan Bertalan, Florin Mitroi, Ion Grigorescu, the Art and Romania in the 80s-90s, Editura ICR, Bucuresti, 2010.
Volume colective recente: Brancusi – omul si lucrurile, Vellant, 2016 (in colaborare cu Doina Lemny), Erratic dogma: Romanian art after 1965, in The search for cultural identity in Central and Eastern Europe 1919-2009, Nicolaus Copernicus University Press, Polonia, 2015, Neo-Orthodox Art in Romania from 1970 through the 1990s, in Centropa, New York, septembrie 2015, On Propagarde, in Jerome Bazin, Pascal Dubourg Glatigny and Piotr Piotrowski (ed), Art beyond borders. Artistic exchanges in communist Europe (1945-1989), Budapesta, Central European University Press, 2015, Picture it Painted, in East of Eden. Photorealism: Versions of Reality', Nikolett Eross, editor, Ludwig Museum -Contemporary Art Museum, Budapesta, 2012, Tristan Tzara in Samyro Times. The Pre-avant-garde Bucharest Group around Simbolul and Chemarea Magazines, in Centropa, Anna Brzyski, editor, New York, 2011, Zidaru – das Werk, monografie, Editura Klartext, Essen, 2011, Shaping the Hero: the Nationally-specific Art in Inter-war Romania, in Irena Kossowska, editor, Reinterpreting the Past: Traditionalist Artistic Trends in Central and Eastern Europe of the 1920s and 1930s, Varsovia 2010.
Erwin Kessler a fost curator al mai multor expozitii de arta moderna si contemporana romaneasca in muzee precum Narodni Galerie, Praga, Bunkier Sztuki, Cracovia, Museo Vittoriano, Roma, Museo do Chiado. Muzeul de arta contemporana, Lisabona, Musée d'Art moderne de Saint-Etienne etc.
Conferinte si seminarii de istoria artei si estetica in Romania, Austria, Ungaria, Germania (Universitatea din Leipzig, Universitatea Jacobs Bremen), Franta, Olanda, Israel, Polonia (Institutul de Istoria artei din Varsovia, Universitatea din Cracovia, Universitatea din Poznan, Universitatea din Torun), Belgia, Marea Britanie (Universitatea din Manchester, King's College, Londra), Italia, S.U.A. (Stanford, Berkeley), Finlanda, Portugalia, Croatia, Belgia, Republica Ceha. Autor-editor al mai multor cataloage dedicate artistilor romani, publicate in romana, engleza, franceza, germana si maghiara.