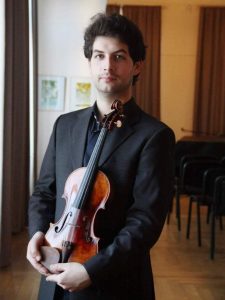 VALENTIN SERBAN is a laureate of The "Mihail Jora" National Contest. He was born in 1990, in Brasov. He studied with many appreciated proffesors, including with the renowned Ilarion Ionescu-Galati. He attends masterclasses with proffessors like Alexandru Tomescu, Arlette Bonamy, Mihai Craioveanu, Remus Azoitei, Adam Han-Gorski, Mihaela Martin, Silvia Marcovici, Ivry Gitlis, Diego Pagin and more. Valentin graduated the University of Music from Brasov. There he also finished the master studies. Afterwards, Valentin continued to study violin in Graz, at Kunst Universität. There, he studied with Mrs. Silvia Marcovici, PhD. He is constantly playing in Brasov, Satu-Mare, Oradea, Botosani, Suceava, Ramnicu-Valcea, Bacau, Ploiesti, Odorheiu Secuiesc, Bucuresti (Romanian Atheneum,  "George Enescu" National Museum), Sinaia; Vaison la Romaine, Strasbourg – France; Viena, Graz – Austria; Gyor – Ungaria, Copenhagen-Denmark. Valentin Serban's repertoire includes chamber music and virtuosity works. But he also approached the grand concertos for violin, many of them successfully being interpreted with the philharmonics' orchestras.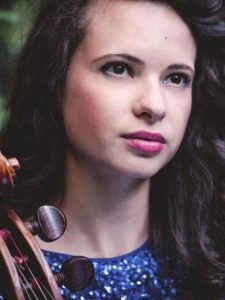 ELLA BOKOR is currently a PhD student at the National University of Music in Bucharest. She is a member of Duo Cello Jaya, Ludens Piano Trio, 4Cellos, Romanian Youth Orchestra, Violoncellissimo Ensemble and I Ludici Ensemble. In 2009 she Ella Bokor was granted the Erasmus Scholarship which offers her the opportunity of studying at "Hochschule für Music und Darstellende Kunst" in Frankfurt am Main, Germany. Ella Bokor attended various masterclasses and festivals, such as: SoNoRo Interferențe, ISA16, Villa Musica, Cello Akademie Rutesheim, SoNoRo International Chamber Music Festival, SoNoRo Conac, International Chamber Music Festival Plovdiv 2016, ICon Arts, George Enescu International Festival, Bucharest Music Film Festival, Young Euro Classic, Enescu and the world's music Festival, SIMN and Meridian Festivals. Along her musical and artistic development she studied and performed with prestigious musicians, such as: Alexander Bouzlov, Marin Cazacu, David Grimal, Jan-Erik Gustaffson, Alexandra Guțu, Diana Ketler, Fenyo Laszlo, Sergey Malov, Adrian Mantu, Alissa Margulis, Marie Luise Neunecker, Răzvan Popovici, Răzvan Suma, Marcin Sieniawsk; but also other artists/actors, as: Ion Caramitru, Maia Morgenstern, Virgil Ogășanu, Alexandru Repan și Valeria Seciu. Ella Bokorwon various prizes, such as: Isa16 Just Composed Prize with Duo Cello Jaya, Second Prize at Plovdiv International Chamber Music Competition 2015 with Ludens Piano Trio and Best Performance Prize at ICon Arts Festival. In 2016 she released the CD – Tales of Duo Cello Jaya and held the Tales National Tour, The Three Cellists Irish Tour and Duo Cello Jaya Vietnam Tour. In 2017 Ella held the Ludens Piano Trio on Tour.  Ella Bokor collaborated with various institutions and orchestras, namely: George Enescu Philarmonic, Romanian Radio Broadcasting Company Chamber Orchestra, Romanian Television, Les Dissonances Ensemble, Camerata Regala and Richard Wagner International Orchestra.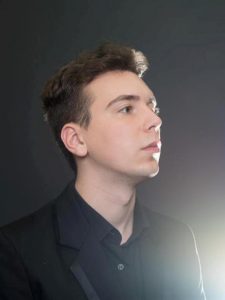 IULIAN OCHESCU began studying piano at the George Enescu National College of Music in Bucharest, graduating Professor's Gabriela Enăşescu class. He is currently a student of the National University of Music Bucharest. Iulian Ochescu is the winner of over twenty awards at national and international competitions, among which: 1st Prize, "J.S.Bach" Prize and Grand Prize at Millenium Piano International Competition, 1st Prize at Pro Piano-Romania International Competition, 2nd Prize at Vienna International Piano Competition-Panmusica Austria, 3rd Prize at San Sebastian City International Piano Competition, 3rd Prize at Drumul spre celebritate Competition, 1st Prize at Lira de aur International Competition, 1st Prize at George Georgescu International Competition, 1st Prize at Tudor Dumitrescu International Competition, Grand Prize at Victor Giuleanu International Competition, 2nd prize at Suzana Szörenyi International Duo Competition alongside pianist Daniel Dascălu and 2nd Prize at Chamber Music Competition Plovdiv with Ludens Piano Trio.  Iulian attended various masterclasses held by internationally praised pianists and professors: Justus Frantz, Andrei Gavrilov, Dan Grigore, Petras Geniušas, Martin Hughes, Diana Ketler, Eduard Kunz, Tünde Kurucz, Janis Maleckis, Einar Steen-Nøkleberg, Marietta Orlov, Alicja Paleta-Bugaj, Imre Rohmann, Matti Raekallio, Markus Schirmer, Mihaela Ursuleasa, Gottlieb Wallisch. Iulian Ochescu's artistic activity includes appearances as soloist with the Romanian National Radio Chamber Orchestra and Ion Dumitrescu Philharmonic Orchestra. Iulian Ochescu is a scholar of SoNoRo Interferențe project, having worked and performed alongside various musicians such as Alexander Bouzlov, Boris Brovtsyn, Corinne Chapelle, Alissa Margulis and Răzvan Popovici. He performed in the George Enescu International Festival together with violonist Erzhan Kulibaev, Aurora Chamber Music Festival in Sweden together with Alexander Zemtsov, ISA Festival of Austria together with violinist Peter Schuhmayer and cellist Othmar Müller (members of the Artis Quartet), SoNoRo International Chamber Music Festival, Romanian Cultural Institute of Vienna, Romanian Athenaeum, Radio Hall in Bucharest and many more. He recorded performances for the Romanian Radio Broadcasting Company and the Romanian Television and is currently a member of Ludens Piano Trio, Violoncelissimo ensemble and Romanian Youth Orchestra. In 2016 Iulian Ochescu was assigned as official accompanist of the George Enescu International Competition and also held a series of concerts and masterclasses at the Hanoi and Ho Chi Minh City Music Universities.