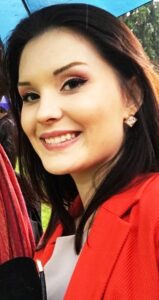 Daiana Ishak is a 23 years old soprano. She has studied classical canto at the National College of Arts "Dinu Lipatti" and in 2019 was admitted to the National University of Music Bucharest.
She has the honor to sing with the Romanian Royal Choir on the 31st of May to the Liturgy Pope Francisc held in Bucharest at the St. Joseph Cathedral; also, they were performing in "The Union Capitals" tour in Ukraine, Moldova, Bulgaria and Romania. In the senior year she has been singing in Solemnis choir and participated in choral tours in Germany and Austria.
Daiana Ishak has won many prizes: the most important of them are the 1st place at the National Olympics of Music – classical canto section in 2014 and 2015, 1st place at "Matei Bucur Mihaescu" contest, organized by Dan Voiculescu's foundation in 2013 and 1st place at "Miniatura Romantica" International Contest in 2013 and 2014.
After winning the 1st place in the National Olympics of Music, she has been invited to sing in the "Olympics Gala" at the Romanian Atheneum. She also participated to 3 masterclasses held by one of our biggest sopranos, Marina Krilovici, which took place at the National Opera in Bucharest.
Currently, she is soprano at the Romanian Royal Choir – Under the Patronage of His Royal Highness Prince Radu of Romania and at the St. Joseph Cathedral choir.