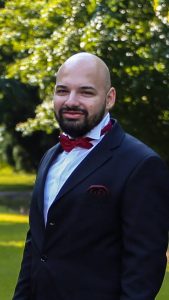 Romanian baritone Cristian  Ruja is an opera and vocal-symphonic singer and he was born on 12 november 1994 in Cugir, Alba. He studied playing piano for eight years with Paula Georgescu and later he studied classical singing with the tenor Adrian Ghidiceanu at the Highschool of arts "Marin Sorescu" Craiova where he graduated in 2013.
He colaborated as a member of the choir with the Philarmonic "Oltenia" Craiova, and the Philarmonic "George Enescu". He also colaborated as a soloist artist with the Philarmonic "Mihail Jora" Bacau in Ein deutsches Requiem written by J. Brahms, the Philarmonic "Oltenia" Craiova in Magnificat by J. S. Bach and with the Chamber Orchestra of the Romanian Radio and Television in Messa di Gloria  by G. Puccini.
In the opera studios of the National University of Music Bucharest, we find him as Aeneas in Dido & Aeneas; Nae Ipingescu in O noapte furtunoasa by Paul Constantinescu; Count Almaviva in La nozze di Figaro; Dandini in La cenerentola; Vercingetorix in Wiener Blut by J. Strauss II.
Cristian Ruja also participated at masterclasses supported by professional singers such as: the tenor Alexandru Badea, the baritone Habela Marcin, the bass George Crasnaru, the baritone Lucas Meachem.
Now Ruja is a student at the National University of Music Bucharest, in his first year of master degree and also he is singing in the Romanian Radio Academic Choir. He is studing with the soprano Bianca Manoleanu.