Persian Spiritual Music & Old Byzantine Chants
Ali Asghar Rahimi & Evloghia Romanian Choir
Saturday, 24 February 2018, 8 p.m.
Tinerimea Romana National Art Centre
19, Gutenberg Str.
Organizers: Yasna Production and Societatea Muzicala
ALI ASGHAR RAHIMI
Composer, Vocalist and Master Tanbour Player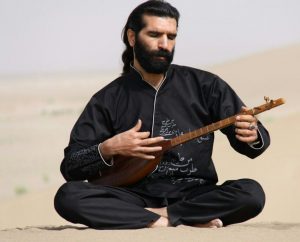 Iranian mystical music composer, vocalist and Master Tanbour player, former student of Master Taher Yarveysi and Master Seyed Amrollah Shah Ebrahimi, he has been studying, teaching and performing Persian music and ancient Maghams of Tanbour for more than 25 years. His mastery of instrumental technique and Persian musical language, his creativity and the ability of sensing Maghams have helped him create a new and distinct style in the Persian mystical music by blending passion, emotion, spirituality, advanced techniques of composition and performance.
His compositions – a truly magical experience of sufi and spiritual music – draw inspiration from the poetry of great mystical poets Mawlana Jalaludin Rumi and Ain-al Quzat Hamedani. Skillfully combining ancient Maghams of Tanbour of "Ahl-e Haqq", free-flowing melody lines and soul-stirring poems sung in his soft yet powerful and hauntingly beautiful vocal style, he creates tapestries of sound and color, word and emotion that touches the heart and inspires contemplation and meditation
As solo artist or accompanied by his Ensemble, he performed in Turkey (Konya) in 2009 and 2011 (Mevlana's Commemoration Festival), UK (London) in 2011, Lebanon (Beirut) in 2012, Romania (Bucharest) in 2013 and 2017, Russia (Saint Petersburg) in 2014, Nepal (Kathmandu) in 2011 and 2014 (Osho Tapoban annual concerts), Morocco (Rabat) in 2017 (Visa For Music Africa & Middle East Music Meeting) as well as in the major festivals and cultural events in Iran.
"Invisible Fire", "Shams and Tanbour", "Death to Birth" and "Sound of Rumi"- four of his spiritual music projects – are worldwide critically acclaimed.
​Ali Asghar Rahimi is Member of the Committee for registration of spiritual music of Iran in UNESCO's World Heritage, Head of Tanbour Society of Esfahan ,Member of the House of Music of Iran, Founder and Music Director of Roohafza Ensemble (1999) and Yasna Ensemble (2017), Founder of Yasna Production Co.
Ali Asghar Rahimi este maestru al "Tanbour" (Tanbur, Tanbūr, Tanbura, Tambur, Tambura, Tanboor si alte denumiri), un instrument cu coarde traditional in Orient.
Ali Asghar Rahimi este directorul Tanbour Society din Esfahan, membru al House of Music of Iran, membru al Comitetului pentru inregistrarea muzicii spirituale din Iran in Patrimoniul Mondial, fondatorul Roohafza Ensemble.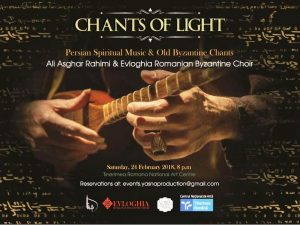 Partener media: