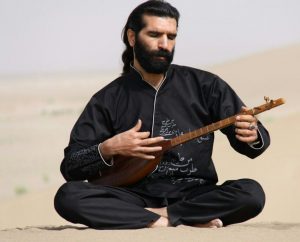 Concert de muzica mistica persana cu Ostad (Maestrul) Ali Asghar Rahimi, compozitor si interpret (tanbour, voce), impreuna cu Ostad (Maestrul) Mohsen Taherzadeh, percutie traditionala (daf, kouzeh) si cu Ostad (Maestrul) Mostafa Ghanaat, clarinet, pe versurile poetului Mewlana Jalaludin Rumi (1207 –1273)
Ali Asghar Rahimi este maestru al "Tanbour" (Tanbur, Tanbūr, Tanbura, Tambur, Tambura, Tanboor si alte denumiri), un instrument cu coarde traditional in Orient.
Ali Asghar Rahimi este directorul Tanbour Society din Esfahan, membru al House of Music of Iran, membru al Comitetului pentru inregistrarea muzicii spirituale din Iran in Patrimoniul Mondial, fondatorul Roohafza Ensemble.
Universitatea Nationala de Muzica din Bucuresti, Sala de Opera, vineri 1 septembrie 2017, 19:30h. Intrarea numai cu invitatie.
"Sound of Rumi" is a mystical music concert that draws inspiration from the spiritual poetry of the 13th century poet Mewlana Jalaludin Rumi. Skillfully combining ancient Maghams of Tanbour, free-flowing melody lines and soul-stirring poems sung in the haunting beauty of the original language, the composer Ali Asghar Rahimi created a tapestry of sound and color, word and emotion that touches the heart and inspires contemplation and meditation.
Partener media: