Jun 2022
Farewell Concert to HE Goran and Jasna Poleksic
Bucuresti
- The Lebanese Embassy
Farewell concert that Ambassador Rana Mokaddem and Societatea Muzicala offer to Goran and Jasna Poleksic at the end of Goran's ambassadorial mandate.
The concert will took place on Monday, 6th of June at 4pm at The Lebanese Embassy, 18 Pitar Mos St.
We had the great chance to host Steve Barakatt, an award winning, world reknown Canadian composer and pianist of Lebanese origin who lives in Montenegro, who played his own compositions inspired by his new life in Montenegro.
Monsignor Buendia, the Apostolic Nuncio, offered the silver plate and the farewell message from the Diplomatic Corps.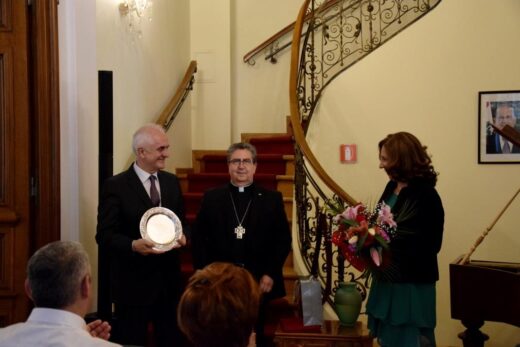 Sponsor